research projects
themes and objectives


Our research efforts bridge various science and engineering disciplines, and are primarily focused on engineering functional nanomaterials for technological applications. Below is a list of some of the active projects in our group:

I. High performance and flexible photovoltaics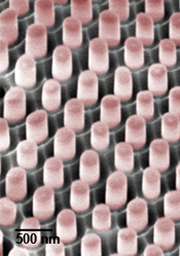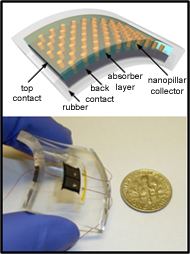 Solar energy represents one of the most abundant and yet least harvested source of renewable energy. In recent years, tremendous progress has been made in developing photovoltaics (PVs) that can be potentially mass employed. Of particular interest to cost-effective solar cells is to utilize novel device structures and materials processing for enabling acceptable efficiencies. In this regard, we have recently demonstrated the direct growth of highly regular, single crystalline nanopillar (NPL) arrays of optically active semiconductors on aluminum substrates which are then configured as solar cell modules. As an example, we have demonstrated a PV structure that incorporates 3D, single crystalline n-CdS NPLs, embedded in poly-crystalline thin films of p-CdTe, to enable high absorption of light and efficient collection of the carriers. Through experiments and modeling, we have demonstrated the potency of this approach for enabling highly versatile solar modules on both rigid and flexible substrates with enhanced carrier collection efficiency arising from the geometric configuration of the NPLs. So far, materials conversion efficiency of ~12% with a device conversion efficiency of ~6% (50% optical transparency loss from the unoptimized top contact) are attained in our first generation solar modules. This approach, which is compatible with a wide range of semiconductor materials, could potentially have a large impact in the realization of efficient and light weight solar panels.

Supplementary Video (~3 MB): The open circuit voltage is measured under room light illumination as the flexible solar module is bent, showing minimal degradation.

Key publications:

1. Z. Fan, H. Razavi, J. Do, A. Moriwaki, O. Ergen, Y.-L. Chueh, P. W. Leu, J. C. Ho, T. Takahashi, L. A. Reichertz, S. Neale, K. Yu, M. Wu, J. W. Ager, A. Javey. "Three dimensional nanopillar array photovoltaics on low cost and flexible substrates", Nature Materials, 8, 648-653, 2009.

Collaborators: Professor Ming Wu, Dr. Joel Ager




II. Large-area printed inorganic electronics and sensors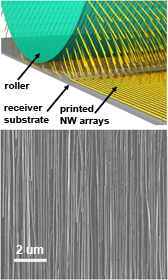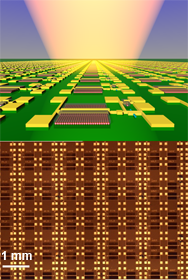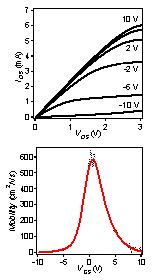 In recent years, there has been tremendous progress in the research and development of printable electronics on mechanically flexible substrates based on inorganic active components, which provide high performances and stable device operations at low costs. In this regard, various approaches have been developed for the direct transfer or printing of micro- and nanoscale, inorganic semiconductors on substrates. In one specific direction, we have recently developed the process technology for large scale contact and roll printing of semiconductor nanowire parallel arrays on substrates with high uniformity. The process is compatible with a wide range of nanowire materials/diameters, and receiver substrates, including plastics, paper, and glass. The printed nanowire arrays can then be readily configured as the active channel material for a wide range of high performance electronic and sensor device structures. Devices with carrier mobilities as high as 700 cm2/Vs are enabled by using this process, enabling the exploration of a wide range of circuit structures unreachable before with the printed organic electronics. Furthermore, the simplicity and low thermal requirements of the process allows for heterogeneous integration of nanowire materials with different functionalities on substrates through a multi-step printing process. As a proof of concept, a simple imager has been developed based on this approach.

Key publications:

1. Z. Fan, J. C. Ho, Z. A. Jacobson, H. Razavi, A. Javey, "Large Scale, Heterogeneous Integration of Nanowire Arrays for Image Sensor Circuitry", Proceedings of the National Academy of Sciences (PNAS), 105, 11066–11070, 2008.
2. Z. Fan, J. C. Ho, T. Takahashi, R. Yerushalmi, K. Takei, A. C. Ford, Y.-L. Chueh, A. Javey. "Towards the Development of Printable Nanowire Electronics and Sensors," Advanced Materials, in press, 2009.
3. T. Takahashi, K. Takei, J. C. Ho, Y.-L. Chueh, Z. Fan, A. Javey. "Monolayer Resist for Patterned Contact Printing of Aligned Nanowire Arrays," Journal of the American Chemical Society, 131 (6), 2102-2103, 2009.
4. Z. Fan, J. C. Ho, Z. A. Jacobson, R. Yerushalmi, R. L. Alley, H. Razavi, A. Javey, "Wafer-Scale Assembly of Highly Ordered Semiconductor Nanowire Arrays by Contact Printing", Nano Letters, 8(1), 20-25, 2008. [cover article].
5. R. Yerushalmi, Z. A. Jacobson, J. C. Ho, Z. Fan, A. Javey, "Large scale, highly ordered assembly of nanowire parallel arrays by differential roll printing", Applied Physics Letters, 91, 203104, 2007.


III. Nanoscale processing and fabrication through the use of molecular monolayers


III.(a) sub 5nm doping of semiconductors via molecular monolayers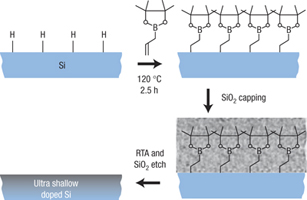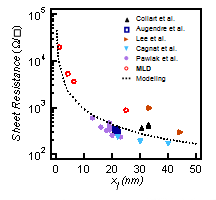 One of the major challenges towards scaling of the electronic devices to the nm-regime is attaining controlled doping of semiconductor materials with atomic accuracy as at such small scales, the various existing technologies suffer from a number of setbacks. In this regard, we have developed a novel strategy for controlled, nanoscale doping of semiconductor materials by taking advantage of the crystalline nature of silicon and its rich, self-limiting surface reaction properties. Our method relies on the formation of highly uniform and covalently bonded monolayer of dopant containing molecules which allows for deterministic positioning of dopant atoms on the Si surfaces. In a subsequent annealing step, the dopant atoms are diffused into the Si lattice to attain the desired doping profile. We have shown the versatility of our monolayer doping (MLD) approach through controlled p- and n-doping of a wide range of semiconductor materials, including ultrathin SOI and nanowires, which are then configured into novel transistor structures. The dopant dose is controlled by engineering the molecular structure of the dopant precursor with the larger molecules resulting in lower dose. Notably, sub 5nm junctions with high areal dopant dose and 70-80% electrically active dopant contents are enabled, even for fast diffusing dopants, such as phosphorous by the use of MLD and the conventional spike annealing.


Key publications:
1. J. C. Ho, R. Yerushalmi, Z. A. Jacobson, Z. Fan, R. L. Alley, A. Javey, "Controlled nanoscale doping of semiconductors via molecular monolayers",

Nature Materials

, 7 (1), 62-67, 2008.
2. J. C. Ho, R. Yerushalmi, G. Smith, P. Majhi, J. Bennett, J. Halim, V. Faifer, A. Javey. "Wafer-Scale, Sub-5 nm Junction Formation by Monolayer Doping and Conventional Spike Annealing",

Nano Letters

, 9 (2), 725–730, 2009.
3. J. C. Ho, A. C. Ford, Y.-L. Chueh, P. Leu, O. Ergen, K. Takei, G. Smith, P. Majhi, J. Bennett, A. Javey. "Nanoscale doping of InAs via sulfur monolayers",

Applied Physics Letters

, 95, 072108, 2009.

Collaborators: SEMATECH and Frontier Semiconductor


IV. Nanoscale electron transport physics and devices of high mobility nanomaterials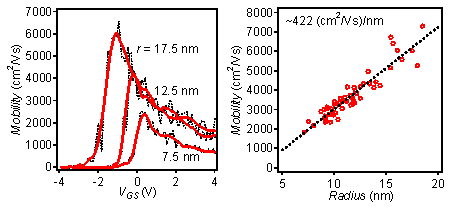 As the materials are miniaturized to nanoscale, their electrical and optical properties are tailored, arising from a number of size and shape dependent factors. We are interested to explore and understand the basic transport properties and device physics of materials as function of their dimensions at nanoscale.
Of particular interest is the dependence of the carrier mobility on nanowire (NW) radius for a given material, especially since smaller NWs are highly attractive for the channel material of nanoscale transistors as they enable improved electrostatics and lower leakage currents. Most theoretical studies have found carrier mobility to increase with radius for sub-10 nm Si NWs, either attributing the trend to the dominant surface roughness scattering in smaller radius NWs, or an enhanced phonon scattering rate due to an increased electron-phonon wavefunction overlap in smaller radius NWs. On the other hand, experimental reports in the literature have been contradictory, ranging from observation of mobility enhancement to degradation with Si nanowire miniaturization for diameters (or widths) down to 10 nm. Therefore, the diameter dependency of the mobility highly depends on the specific nanowire material system, the diameter range, and the method used to assess the electron mobility. The challenge in attaining accurate experimental data mainly arises from the difficulty of ohmic contact formation to nanoscale materials and the direct measurement of the gate capacitance. In this regard, we have recently reported the detailed current-voltage (I-V) and capacitance-voltage (C-V) spectroscopy of individual InAs NWs with ohmic contacts at different temperatures; therefore, enabling the direct assessment of field-effect mobility as a function of NW diameter while elucidating the role of surface/interface fixed charges and trap states on the electrical properties. The field-effect mobility is found to monotonically decrease as the radius is reduced to sub-10 nm, with the low temperature transport data clearly highlighting the drastic impact of the surface roughness scattering on the mobility degradation for miniaturized nanowires. More generally, our presented approach may serve as a versatile platform for in-depth characterization of nanoscale, electronic materials.
Key publications:
1. A. Ford, J. C. Ho, Y.-L. Chueh, Y.-C. Tseng, Z. Fan, J. Guo, J. Bokor, A. Javey. "Diameter-Dependent Electron Mobility of InAs Nanowires",

Nano Letters

, 9 (1), 360-365, 2009.
2. Y.-L. Chueh, A. C. Ford, J. C. Ho, Z. A. Jacobson, Z. Fan, C.-Y. Chen, L.-J. Chou, and A. Javey. "Formation and Characterization of NixInAs/InAs Nanowire Heterostructures by Solid Source Reaction."

Nano Letters

, 8 (12), 4528–4533, 2008.

Collaborators: Professor Jeff Bokor and Professor Jing Guo




V. The power of nano: programmable & multifunctional connectors based on NW arrays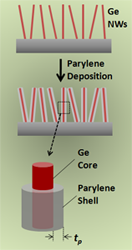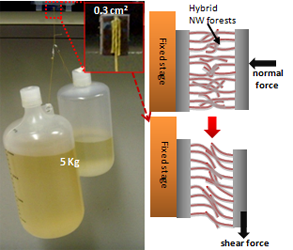 The evolution of biological systems has generated hierarchical nano- and microfibrillar structures with diverse mechanical, optical, and sensing functionalities. These excellent and unique structure-related properties found in biological systems have inspired researchers to generate artificial materials mimicking, for example, the amazing adhesion abilities of gecko's foot, and superhydrophobic surface enabling self-cleaning of dirt by rolling a water droplet in lotus leaf. Especially, the nanofibrillar structures of synthetic gecko adhesives enable binding to almost any surface by van der Waals (vdW) interactions. Recently, we reported self-selective connectors based on nanofibrillar structures that enable efficient binding with self-similar surfaces but weak adhesion towards other surfaces in both dry and wet environments. The connectors consist of inorganic/organic, core/shell nanowire (NW) forests with the inorganic core serving as the rigid backbone and the organic shell providing a soft surface for conformal contact. Since the hybrid NWs are relatively stiff as compared to those used in most gecko adhesives, minimal adhesion is observed when brought in contact with flat surfaces (i.e, they are poor adhesives). However, the contact area, and therefore, the vdW interactions are drastically enhanced (~1000x enhancement) when the NW forests are engaged with self-similar surfaces, resulting in high shear strength with relatively low engagement/disengagement forces. This selective binding with self-similar surfaces presets a major difference between a connector and an adhesive. As compared to the Velcro technology, NW connectors operate via chemical interactions, making them high scalable at both macro and micro-scales. Furthermore, they have soft surfaces, are ultrathin (only 10 um in thickness) and show minimal adhesion even on porous foreign surfaces, such as cloth.

NW connectors exhibit high macroscopic shear adhesion strength (~163 N/cm2) with minimal binding to non self-similar surfaces, anisotropic adhesion behavior (shear to normal strength ratio ~25), reusability (~98 attach/detach cycles), and self-cleaning of the surface from contaminant particles, similar to the lotus effect. One of the advantages of hybrid core/shell NW connectors is their tunable multi-functionalities depending on the composition of the hybrid structures. For instance, we have demonstrated connectors with both electrical connectivity and physical binding by using metallic outer shells on the hybrid NW connectors. The NW electrical connectors may enable the exploration of a wide range of applications involving reversible assembly of micro- and macro-scale components with built-in electrical interfacing.

Supplementary Video 1 (~3 MB): NW connectors attached to the ends of a rubber belt are shown in action.

Supplementary Video 2 (~3 MB): NW electrical connectors, exhibiting both physical adhesion and electrical connectivity, are utilized to attach an array of LEDs to a battery pack mounted on the wall.

Supplementary Video 3 (~3 MB): Lotus effect - hybrid NW forests exhibit superhydrophobic surface behavior, enabling the self-cleaning of the surface contaminants (in this case, sand particles) by rolling of a water droplet.

Key publications:

1. H. Ko, J. Lee, B. E. Schubert, Y.-L. Chueh, P. W. Leu, R. S. Fearing, A. Javey. "Hybrid Core-Shell Nanowire Forests as Self-Selective Chemical Connectors,"

Nano Letters

, 9 (5), 2054–2058, 2009.
2. R. Kapadia, H. Ko, Y.-L. Chueh, J. Ho, T. Takahashi, Z. Zhang, A. Javey. "Hybrid core-multi-shell nanowire forests for electrical connector applications,"

Applied Physics Letters

, 94, 263110, 2009.
3.H. Ko, Z. Zhang, Y.-L. Chueh, J. C. Ho, J. Lee, R. S. Fearing, and A. Javey. "Wet and dry adhesion properties of self-selective nanowire connectors",

Advanced Functional Materials

, in press, 2009.

Collaborators: Professor Ron Fearing